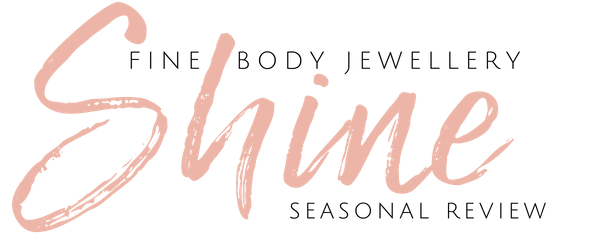 There's no other time of the year like Summer. The feeling of fun is tangible in the air. Fresh early mornings at the beach, lazy lunch get-togethers with loved ones for any excuse and those long evening twilights that I wish would go forever. BRING IT ON!! Welcome to the Summer edition of SHINE, Ivy Dayelle's Seasonal Review of Fine Body Jewellery. Let the good vibes of Summer take you over and enjoy the ride. Time to be inspired, to learn and embrace something new.   Read about the latest ranges, innovative new products, helpful hints and tips and join the community of Gemms that share your love of adornment and unique expression of body piercing.  

Hello Summer, I've missed you. I know you're only here for a couple of months, but let's make the most of it. Let's create some memories that will last till next time your come. Ok, so you've worked out I really love summer. Living here in Noosa its hard not to. This is the season to make all the others jealous. Its a time when the focus is on celebrating the important and real things in our lives, like family, friends and community. From the local Christmas Carols in the Park to the New Year's Day Beach Parties I am going to make this Summer count. I hope you do too.   Please enjoy the Summer Edition of the Fine Body Jewellery Review, and join in the Summer lovefest with me.
In this new edition, we look into the latest trend of VERSATILE PIECES, why conform, when you can choose to go your own way. We also showcase our clever and secure range of studs featuring BUTTERFLY SAFETY BACKS, never fall short again by loosing an earring. Also we get down and detailed with all things HELIX. We answer all your questions that you have always wanted to know and probably some stuff you didn't want to know if this fun and comprehensive placement guide.  
Congrats to our lovely Gemms, Erica and Susan from the SPRING edition who have both won a $50 gift voucher by simply having their say. For those who missed it, we wanted to know your favourite SPRING event? The flair of THE MELBOURNE CUP, the dressing up and antics of HALLOWEEN or get me another meat pie while I enjoy the FOOTY FINALS. The results are in and it might surprise some but not others.....HALLOWEEN. The ghoulish American holiday is becoming an Aussie favourite. I don't blame you. The chance to get kitted up in fancy dress, eat your body weight in treats and be a general menace to society - count me in!
Don't forget to have you say this edition for your chance to win a set of ALL THE WAY AROUND & BACK Hoops in your choice of Gold or Rose Gold, valued at $49.95 in our GEMMS section. We are on a mission to resolve a very serious and going office stand-off. What is the best Summer fruit 🍓🥭🍉. Help us make a decision once and for all.
I hope you all get the chance to fully enjoy this festive season and spend it with the special people that make the difference. Long Live Summer!
Life is too short to be Dull, It's time for you to SHINE BRIGHT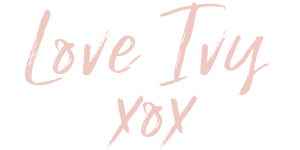 Don't Follow the Crowd,
Let the Crowd Follow you.
Margaret Thatcher
"You Can Go Your Own Way"
One of the main appeals of body piercing, is the opportunity to easily change the jewellery pieces to reflect mood, style and your vibe of that moment. Personally, I love not being tied into a look forever but changing it up, just like our lives. Sometimes you're the mum who has to go to Parent / Teacher Interviews, other times you're carefree, letting your hair down at a festival. Moreover, I love experimenting with pieces and wearing them in new and different ways. Don't get me started about Double-Parking Lobes! (unless you want me too - comment below.)
With this in mind, we are so excited to release our range of versatile 8mm Rings. They are designed to be worn how and where you like. With a secured hinged ring fasting they are quick and easy to change and the fixed charm adds spirit to a traditionally basic piece. Lets meet the Crew... Our Star Player is SUPER NOVA, Fluttering into your life is FREE SPIRIT and Lovely last recruit is CHANGE OF HEART. All pieces are available in Gold, Rose Gold and Titanium.
These pretty pieces can be worn in a number of ways. The 8mm size makes them perfect for cartilage placements like the Tragus, Rook, Conch, Helix or Snug. This smaller size also allows them to work well with multiple pieces and the charm adds character to a simple ring.  
The range of 8mm rings is also well suited to the Belly. A recent trend for this piercing has seen a minimalist approach, embracing smaller and simpler pieces to adore your mid-drift. The addition of the charm elevates a basic ring to a subtle display of your personality.
Finally, these rings are ideal for wearing as a nose ring. The 8mm is the Goldilocks of ring sizes. While some find the 10mm too big and the 6mm too small the 8mm is JUST RIGHT. The simply charm design increases the appeal without over-powering the features of the face.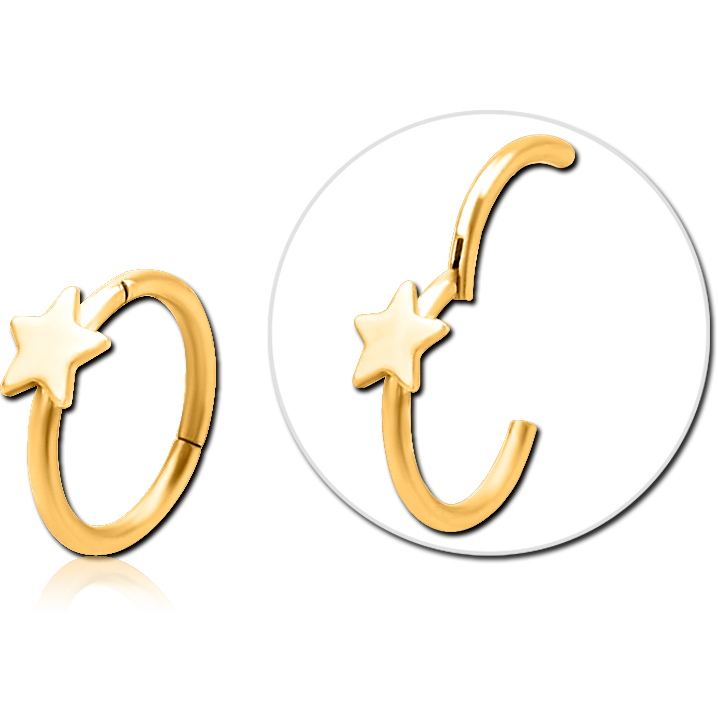 SUPER NOVA 8mm Ring
Available in Rose Gold and Titanium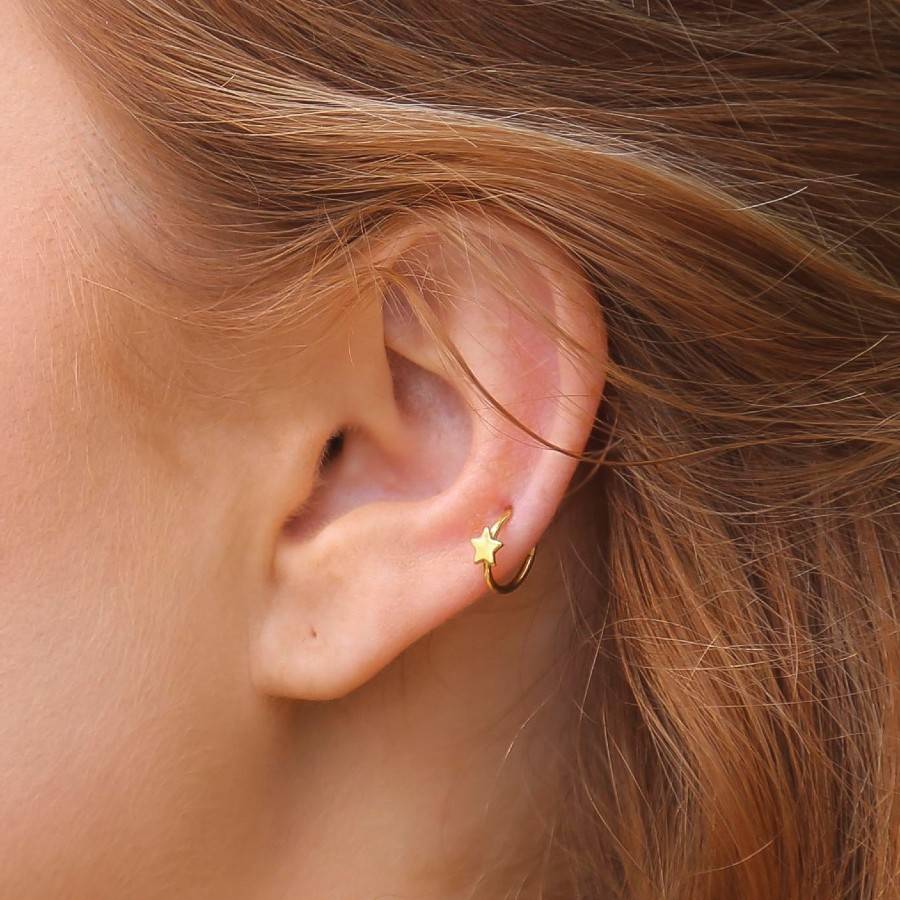 Super Nova // Worn As Helix Ring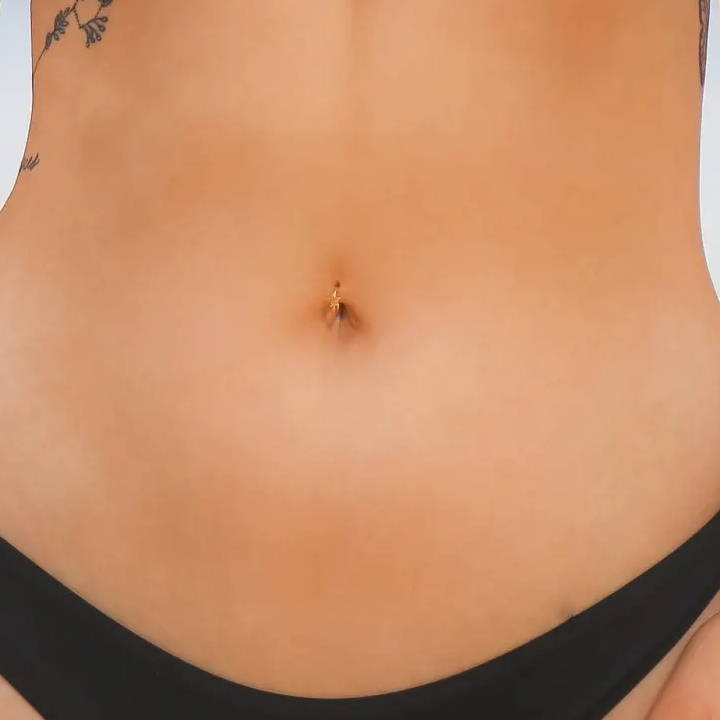 Super Nova // Worn As Belly Ring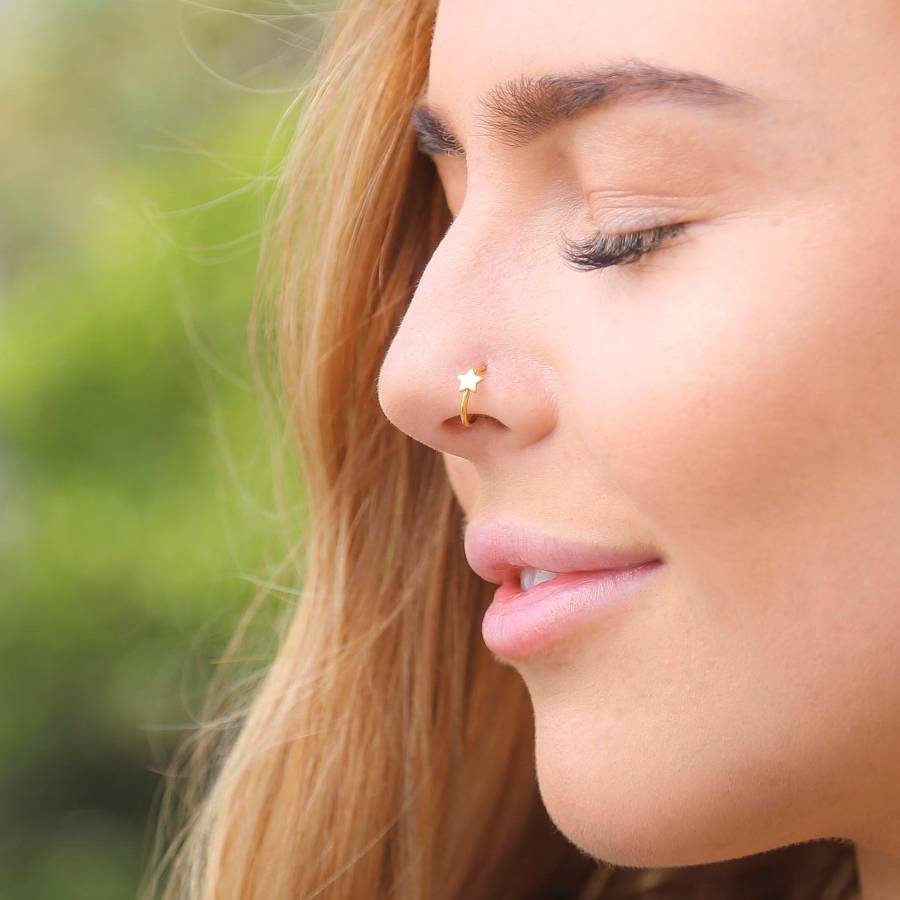 Super Nova // Worn As Nose Ring
GIVE ME THE STATS
SHOW ME OFF  
Nose // Lobes // Helix // Tragus // Rook // Belly // Nose
SIZE
8mm Diameter
ATTACHMENT
"Hinged Segment Ring" secures like a sleeper
GAUGE
18 // 1.0mm
IMPORTANT
Sold as a Single (contains 1 Ring)
A Note on Changing Body Jewellery
It's important to remember that certain precautions need to be taken when changing any body jewellery, especially if you are swapping the same piece for a different position. To avoid unwanted contamination, make sure your hands are freshly washed. Also make sure the area you are removing the piece is clean and also the area you are inserting into. You can do this with a salt water solutions or a handy pre-made mix like our preferred spray - Protat Sea Salt & Tea Tree Aftercare
Remove the piece and clean it with a clean cloth to remove any pieces of any built up secretion ( Hey we all know its gross but true. ) Then allow the piece to air dry before cleaning it with the solution or spray. Again allow to dry before inserting the piece in the new position. Hygiene is so important for reducing the risk of infection of any aged piercing, not just new ones. Remember to keep an eye on the piercing in the days following to check the change was done successfully.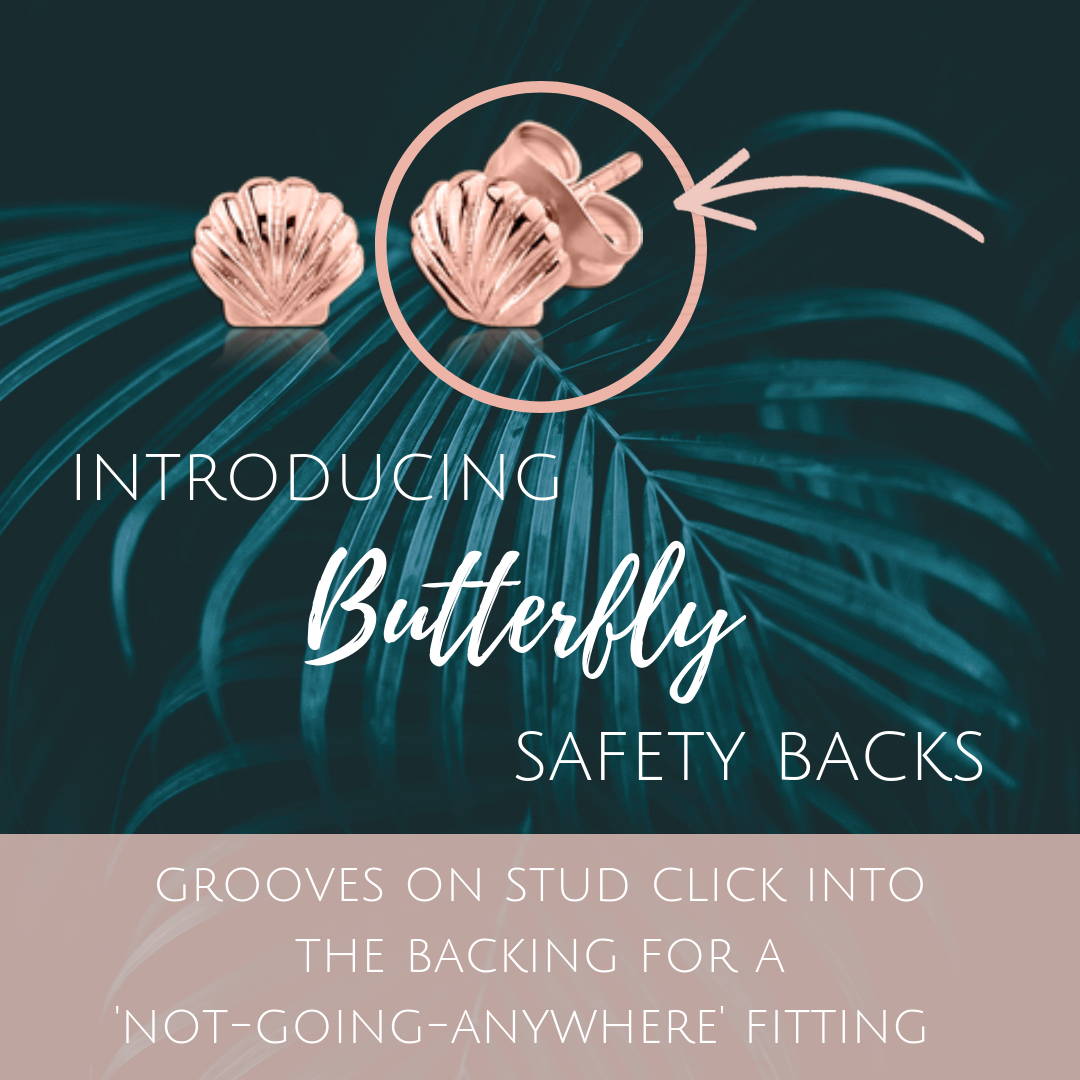 There is nothing worse than realising you have lost an earring. Firstly, you think, maybe, it has only just fallen out. You madly check the floor around you, your hair, your clothing. If it was a favourite pair you will even re-trace your steps in the desperate search to reunite your lonesome earring into a complete pair again. Sometimes a miracle occurs and you find the earring, a story that you will retell any willing by-stander. But, more often than not, the sad, singular earring gets a dis-honorable discharge from your wardrobe. Joining the jewellery graveyard with the other lost souls and broken pieces. This is SO SAD! We totally get you, it doesn't have to be like this. Breathe easy, all our studs use Butterfly Safety Backs, to ensure you can be confident that your studs will be together till fashion do we part.
The Butterfly Safety Backs are a great invention, but not a new one. You might have seen them before on a set of old school piercing studs. When you would go to the pharmacy to get your ears done with a gun - eeekkk! The idea behind the backs was to create a secure fit that would not come loose or undo during the healing process. Once locked in, the backings require a measured force to release them, making sure they only un-do when you want them to. Our gorgeous little studs are sure to become some of your favourites, so Butterfly Safety Backs are standard. Say good-bye to lost earrings, because, Ain't nobody got time for that !
After Lobes, the Helix is the most popular placement choice for a piercing. Find out why the Helix is the perfect complementary piece to a simple set of lobes or add the funky touch needed to complete a curated ear candy story
A Helix piercing is situated along the firm curved ridge of cartilage of the outer ear that is at the top of your ear. It is usually, but not always, placed close to the ridge on the flat of the ear on the downward turn of the arc, using either a micro-barbell or ring for jewellery.
Some variations of the Helix piercing include, The Flat Helix, The Forward Helix, The Double Helix and The Triple Helix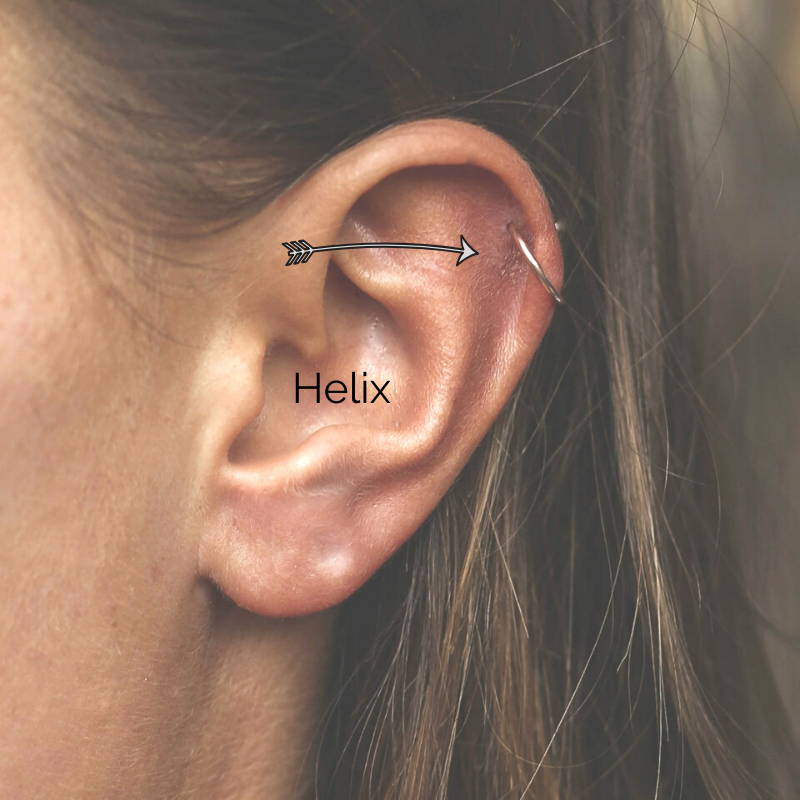 So now you're informed on the basics, let's find out the answers to the rest of your questions, like...
👉Give Me the Facts
👉Seriously, How Much Does It Hurt?
👉Tell Me Straight, How Long Before It's Healed?
👉Ok - Sounds Great, BUT Are There Any Risks?
👉How Much Will This Cost Me?
Now let's dive into these with some more detail
Congratulations to our Spring winners
Erica & Susan
It's that easy to win, now here's your chance to
HAVE YOUR SAY

Fancy A Pair of Fresh HOOPS?
Let us know your thoughts for your chance to win.
A Set of our
ALL THE WAY AROUND & BACK 
60mm Hoops
In your choice of Gold or Rose Gold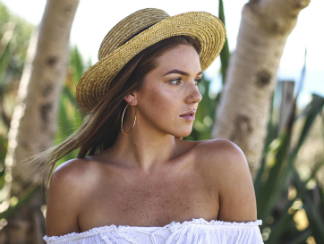 Here is this edition's question
What is your favourite Summer Fruit?
A - Watermelon
B - Mango
C - Strawberries
Also let us know what piercings you have trouble finding jewellery for?
ENTRIES CLOSE February 29th 2020
Winners will be announced on Facebook and Instagram before the next edition
Follow us on social media for the latest info and inspo
Thanks!
This field is required
This field is required
This field is required