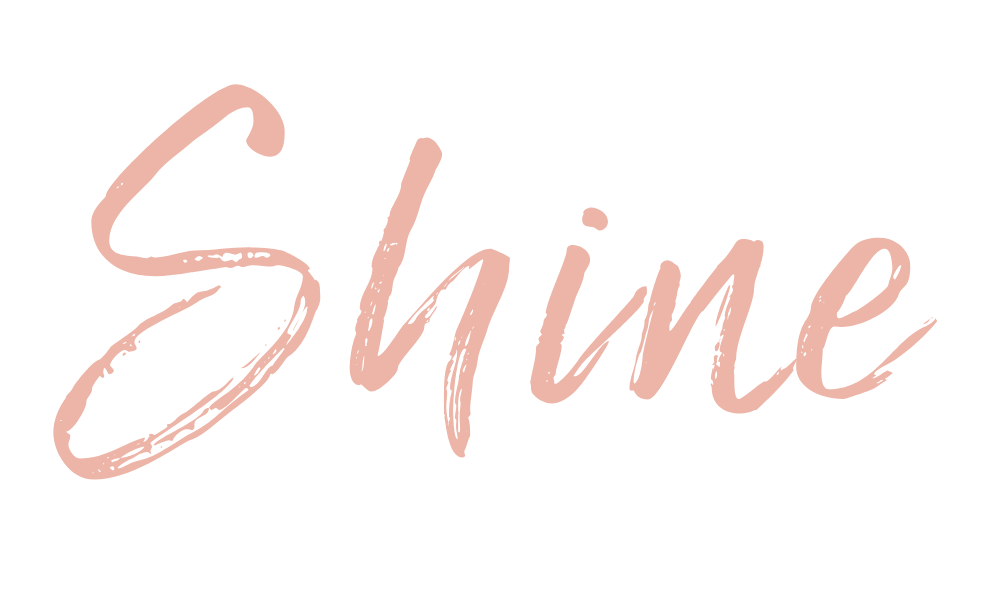 This year has been not like any other we have ever experience. From fires and floods to the current Covid-19 pandemic. To say life has been overwhelming is an understatement. It might not be much but I would like to take a moment with you to escape the worry and relax with the Autumn edition of SHINE, Ivy Dayelle's Seasonal Review of Fine Body Jewellery. Take a break and go a virtual holiday of the mind; read about the latest trends, innovative new products, helpful hints and tips and join the community of Gemms that share your love of adornment and unique expression of body piercing.  

Hello Beautiful Gemms,
When I sat down to write this review, I had planned to mark the first anniversary of publishing our FBJ Seasonal Reviews. I am so proud of the achievement and wanted to thank all of you for the much appreciated support and encouragement. Who could have predicted what I'm going to write about instead. What a strange time this has been with the global pandemic of Covid-19. It seems that we are living a sci-fi movie. Only a short few months ago, terms like social distancing, panic buying, home schooling, self isolation and quarantine were so unfamiliar, now common to our vocabulary.  
It has been heart-breaking to see the overseas vision of the devastating effects the virus has caused to many countries. I feel for all the families who have lost precious members and the way whole cities have been closed down. I count my blessing to live in Australia on the Sunshine Coast with such space, clear air and sun.  
To be honest, I've been in two minds. The heaviness and seriousness of this situation has made me question the importance of my little online shop. What does it matter in the bigger scheme of things. It all seems trivial, what can I do that is of any relevance? What can I do to help? Maybe I shouldn't bother people at this hard time?
The longer this has gone on though, I have come to realise, that people are craving normality. No-one in their lifetimes have experience anything like this, everything is new, uncertain and a little scary. In these times any familiarity that can connect us with our lives pre-Covid 19 can provide comfort. While much has change, some things remain constant. It's re-assuring to know that many brands and services that were there in January and still here in May.  
So I push forward in my own little way to show I am still here for you. To provide a moment of escape from our current reality to hopefully entertain, inform, inspire and continue to provide the same service of high quality body jewellery. Because regardless of what is going on around us it doesn't prevent us from the need to replace a lost earring, treat ourselves to a much earned distraction or spoiling the special people in our lives.
Please enjoy the Autumn Edition of the Fine Body Jewellery Review,
In this ISO edition, I want to take you away from the constant stream of reports and replace it with a light-heartened take on ISO FASHION TRENDS. We also showcase our clever and secure range of hinged back pendant earrings featuring what we like to call GRANDMAS SECRET. Find out how by looking to the past, we can help solve today's problems. As always there's our latest comprehensive and fun placement guide. We get down and detailed with all things LOBES . We answer all your questions that you have always wanted to know and probably some stuff you didn't want to know. Don't write off this seemingly basic piercing - it's more interesting than you think.
Congrats to our lovely Gemms, Caitlyn and Hanna from the SUMMER edition who have both won a gorgeous set of ALL THE WAY AROUND & BACK Hoop Earrings, by simply having their say.
For those who missed it, we wanted you to help us resolve an office Stand-Off. Once and for all, what is the best summer fruit. The juicy MANGO, the refreshing WATERMELON or the crowd favourite STRAWBERRIES. It might not come as much of a surprise but our winner was MANGO. Thanks to its seasonal freshness and unique summer taste! Thanks everyone who voted and helped us with our first world problems.
The Hoops were so popular, so by request, Don't forget to have you say this edition for your chance to win a set of ALL THE WAY AROUND & BACK Hoops in your choice of Gold or Rose Gold, valued at $49.95 in our GEMMS section.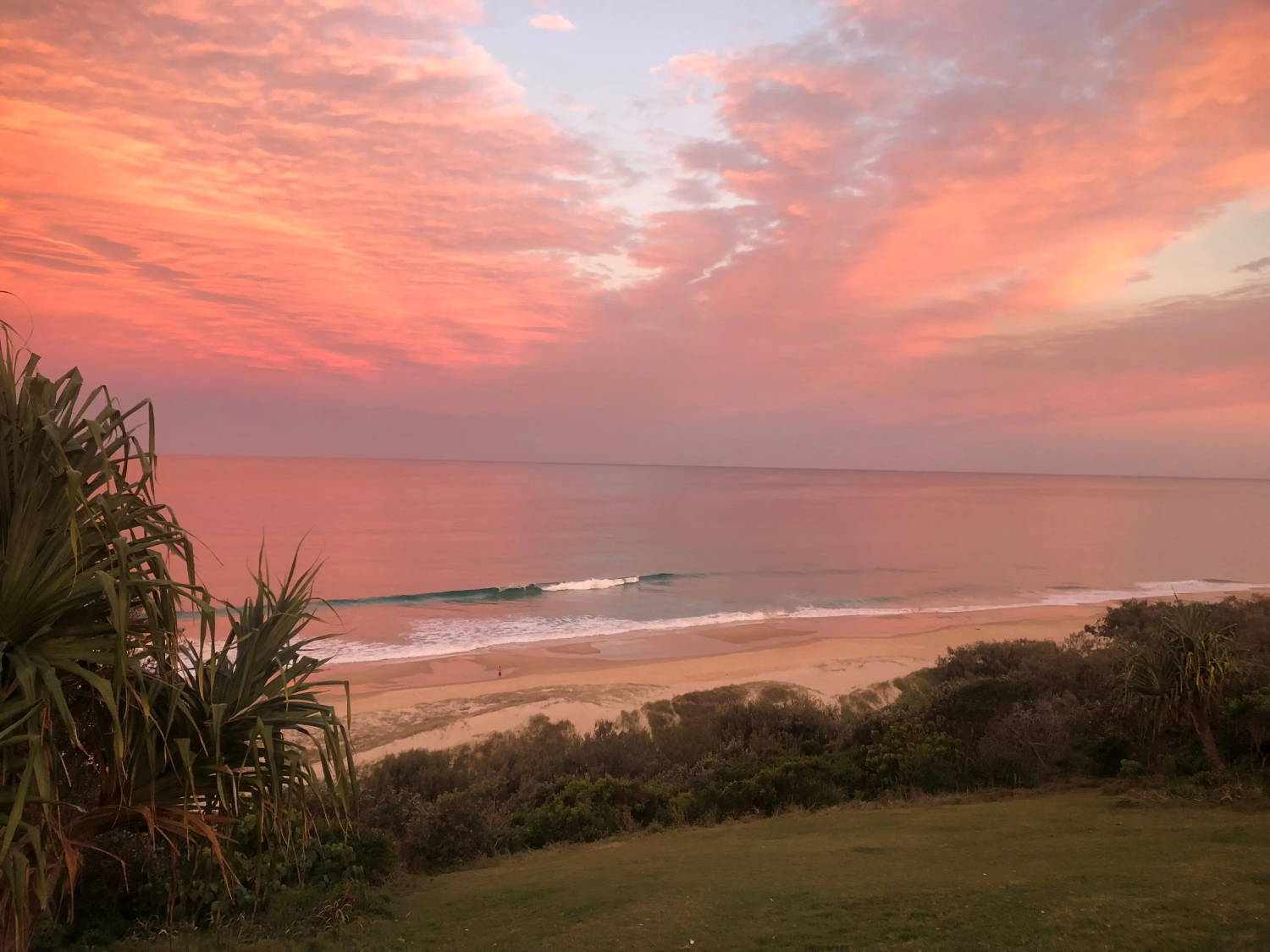 Stunning Autumn Sunset at Sunrise Beach. No filter needed
I feel so lucky to live in a county that has been so proactive with its medical response to the virus and the quick recognition that the economy and workers needed to be supported. I know that life may not look the same after this but I'm confident in the spirit of people to work together to support each other and get through this. See you next edition, I'll still be here you can count on that. In the meantime, please .....
Stay Safe, Take Care and SHINE BRIGHT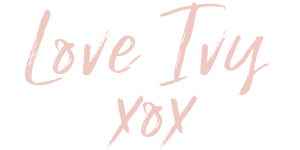 Happiness can be found even in the darkest of times,
if one only remembers to turn on
the light.
Dumbledore
ISO Glamour - What are you waiting for?
So just like that we were told - no more Friday nights out with friends, no more girl's lunches, no more celebrations with family. Now while I understand this is completely necessary for the care of all members of the community, on some superficial level I could feel a tantrum coming on as I channeled my inner toddler.
But then I thought "Fine, no going out? All good! I'm living in my trackies and ugg boots." The freedom of elastic waists and no make-up was liberating. It's a slippery slope though. Soon... what was the point of washing my hair or for that matter wearing pants! I think like a lot of Aussies, there's a tipping point, where you realise this is out of control. I knew this to be true when I caught a momentary glimpse of my reflection in the mirror. Who was that scary woman and what was she doing in my house!!!
Out of this dark hole, a new ISO Glamour trend has emerged. Sometimes the only way to fight one extreme is to go full pace to another extreme. On social media from Instagram to Facebook, people everywhere are getting dressed up to put the bins out, do the housework or a night in for home cooked meals. The every day deserves the grace of sequins, feathers, faux fur and a whole lot of bling!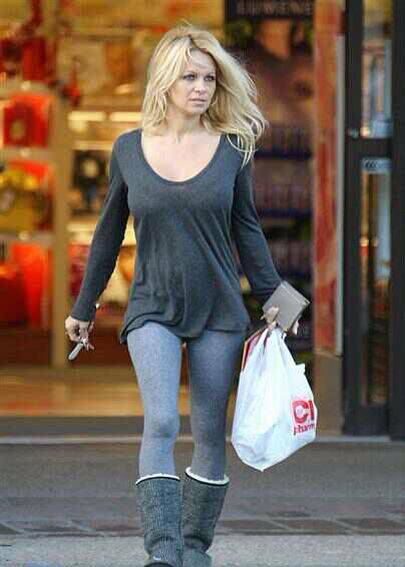 Pamela Anderson and I separated at birth

Photo Credit : Pinterest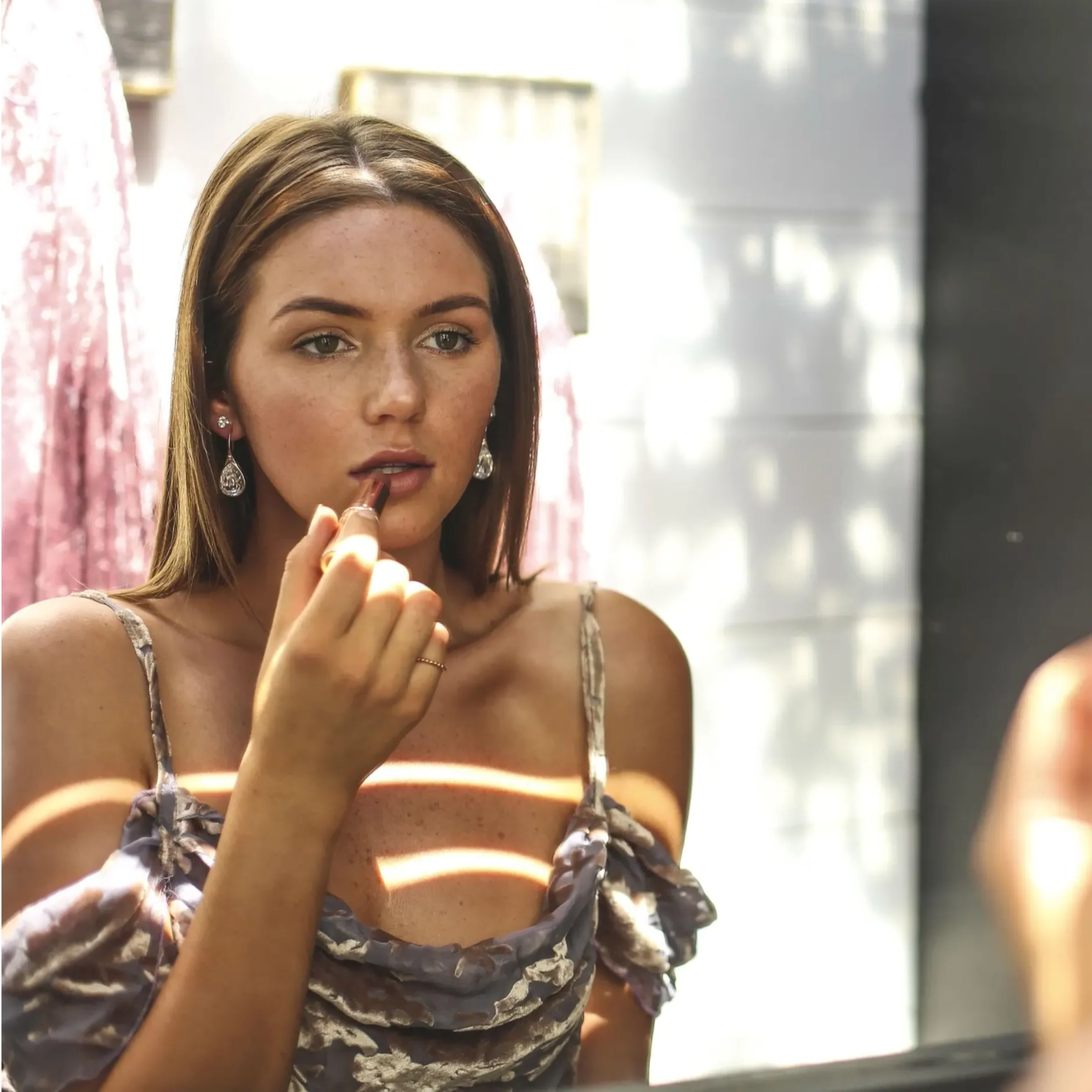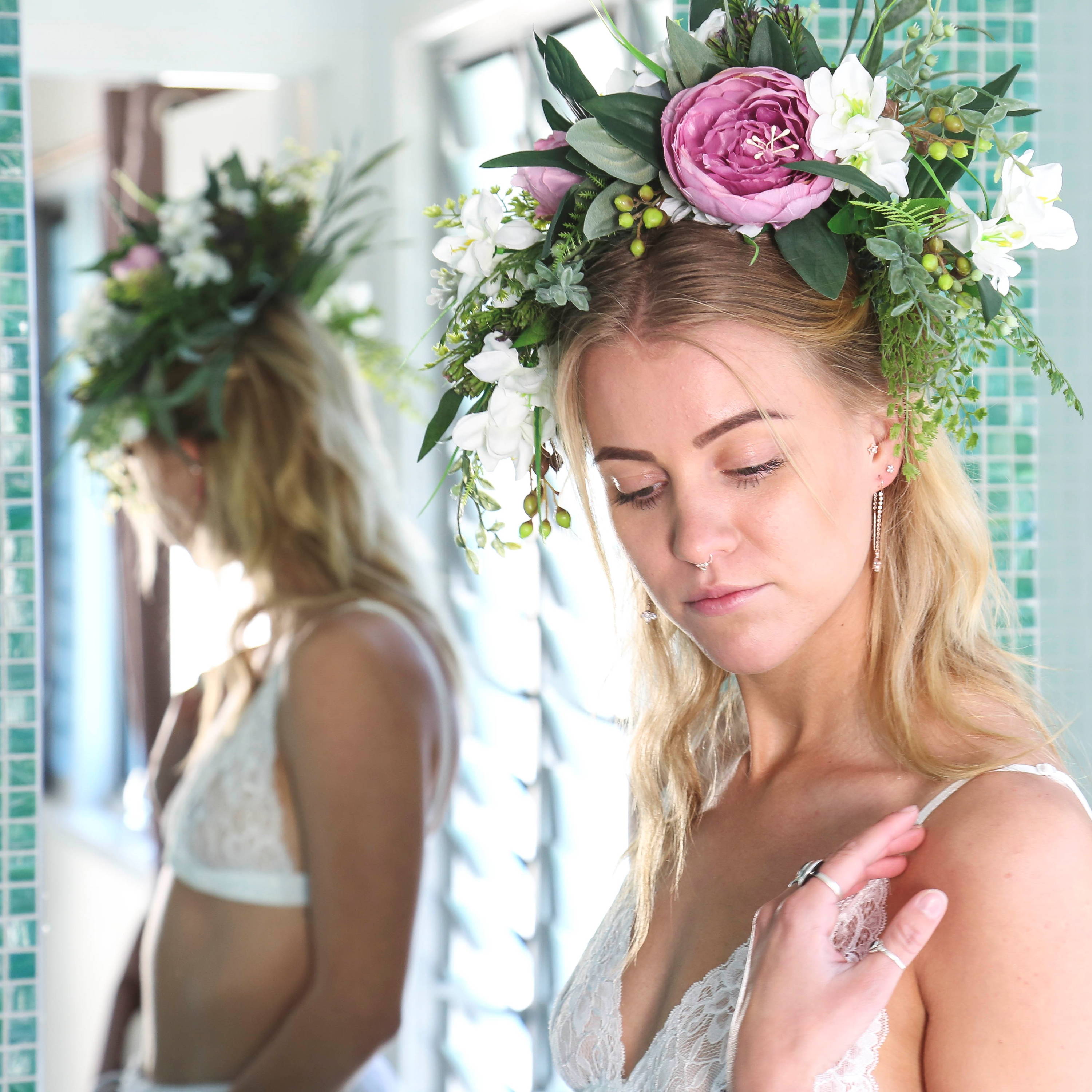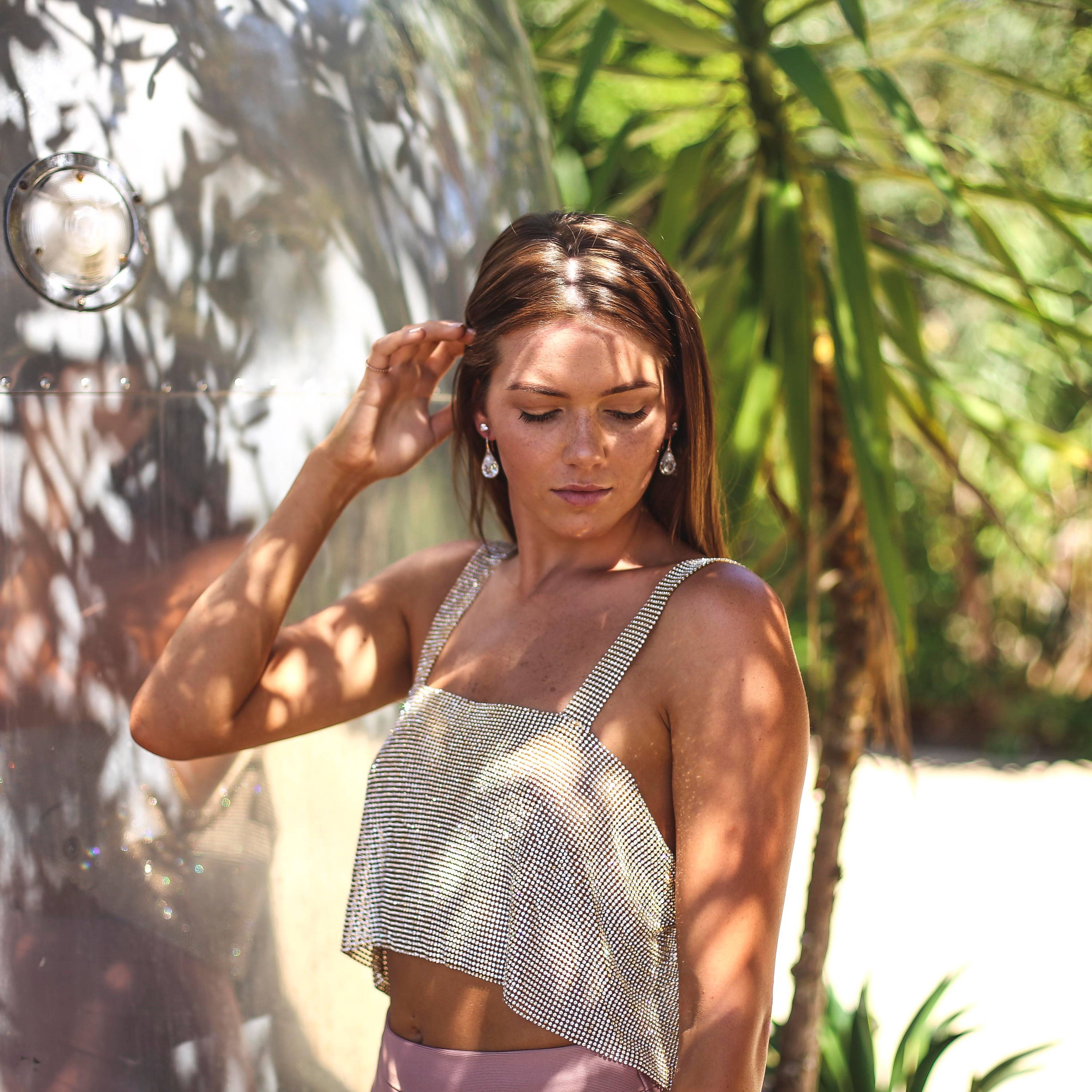 We all have a section of our wardrobe separated for "Special Occasions" Realistically these times only come a couple of times a year or worse, not at all. Why wait until someone else tells you its OK for you to wear your "Good" clothes. ISO Glamour is all about wearing whatever you want whether there's an audience or not. It feels great to dress up. A little dose of happiness each day to boost your mood is much needed at this time. Embrace ISO Glamour and give yourself permission to wear what you like, experiment with new looks and have some fun. In the words of the wise Gwen Stefani "What are you waiting for?". I encourage you all to enjoy each day for the occasion it is and wear your "Good Gear"


Personally, Nothing says occasion like bling. So I thought I would share a couple of over the top pieces just perfect for ISO. These little stunners have been released from the bonds of ONE DAY into my weekly rotation.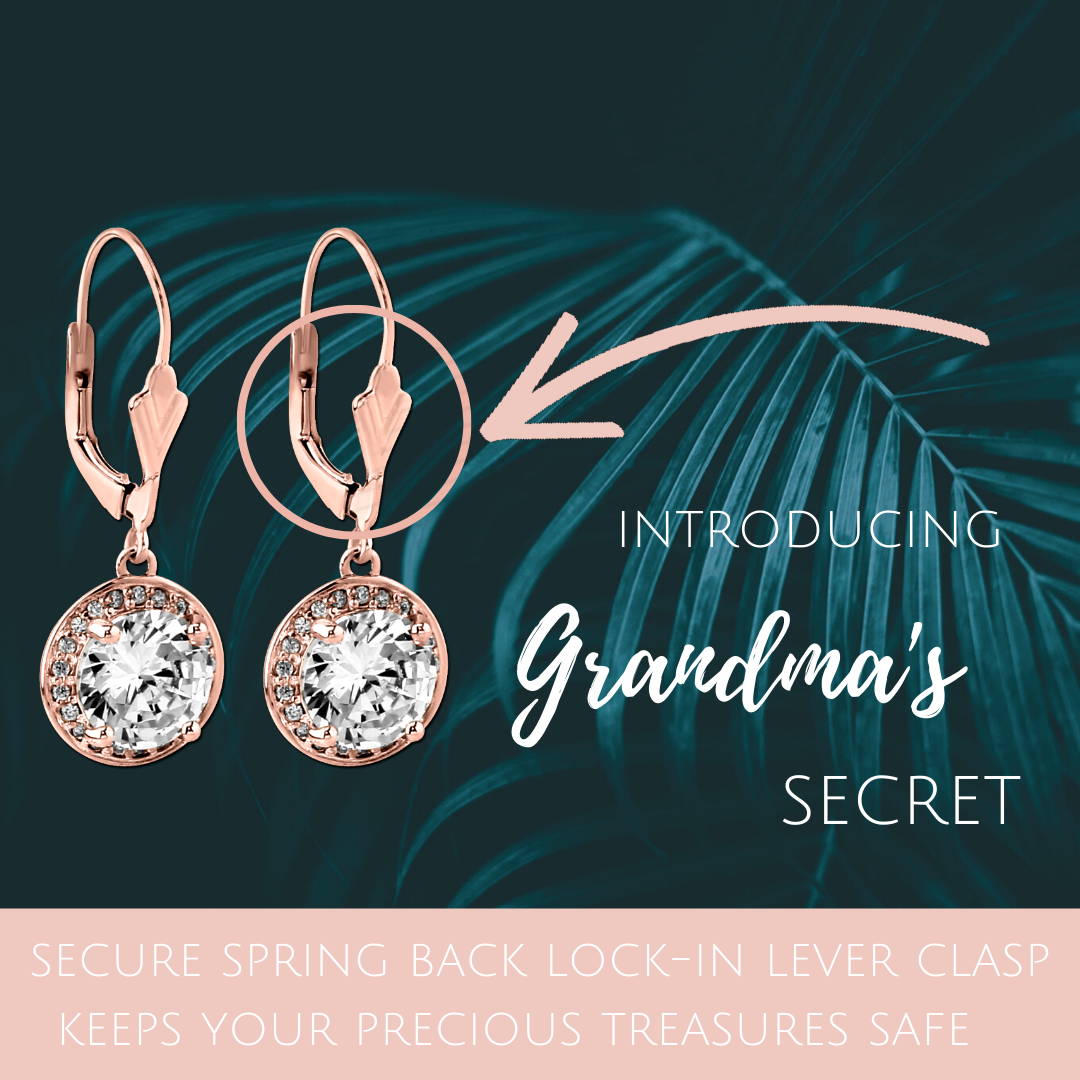 Do you remember going through your Grandma's Jewellery Box? As a little girl, I remember thinking my grandma must have been a princess when she was younger. While she didn't have a lot of jewellery, each piece was special and beautiful. So different from our fashion jewellery today. Her jewellery was very old yet still had a captivating charm about it, still sparkled, still such a precious quality.

I even remember asking her about some of the earring, quite puzzled how the latches worked, especially the ones with screw tight clip-ons 😳 It got me thinking though, this jewellery had to be built to last. Losing an earring was not an option, it was so precious and represented so much.

In honor of all our beautiful grand-mothers ♥️ we've revived a clever latching systems to ensure you can keep your mind on having a good time, instead of worrying about keeping your earrings in place. Introducing GRANDMA'S SECRET. A secure spring back lock-in lever clasp that keeps your precious treasures safe. Available on our gorgeous RADIANT GRACE and PRECIOUS MOMENT earrings, The hook curve makes these earrings extremely comfortable, while the latch keeps them safe and sound.
Thinking about it, we have a lot to learn about style, fashion and appreciation from our grandmas. Precious items should be build to last and treasured. Disposable fashion just leaves us disappointed, frustrated and guilty. I'll leave you a piece of advice given to me by my grandma. "Less is More" - I think that is true for a lot of things not just fashion.
For most people the lobes are the first piercing we have done. This placement is also one of the oldest with the earliest evidence of lobe ear piercing dates back to ancient times with mummified remains sporting earrings. Today it is seen as a mainstream form of self expression and adornment.
A Lobe piercing is situated in the lower, soft fleshy region of the ear called the Lobule. It is pierced usually in the centre of the space, evenly spaced between the lower edge, the face and the opening of the ear canel. For comfort, safety and aesthetics, the lobe is pierced using a stud for jewellery.
Now while the lobe has a reputation as being a bit basic, this seemingly pedestrian piercing has a interesting history with its own sordid past. Interested? Read on....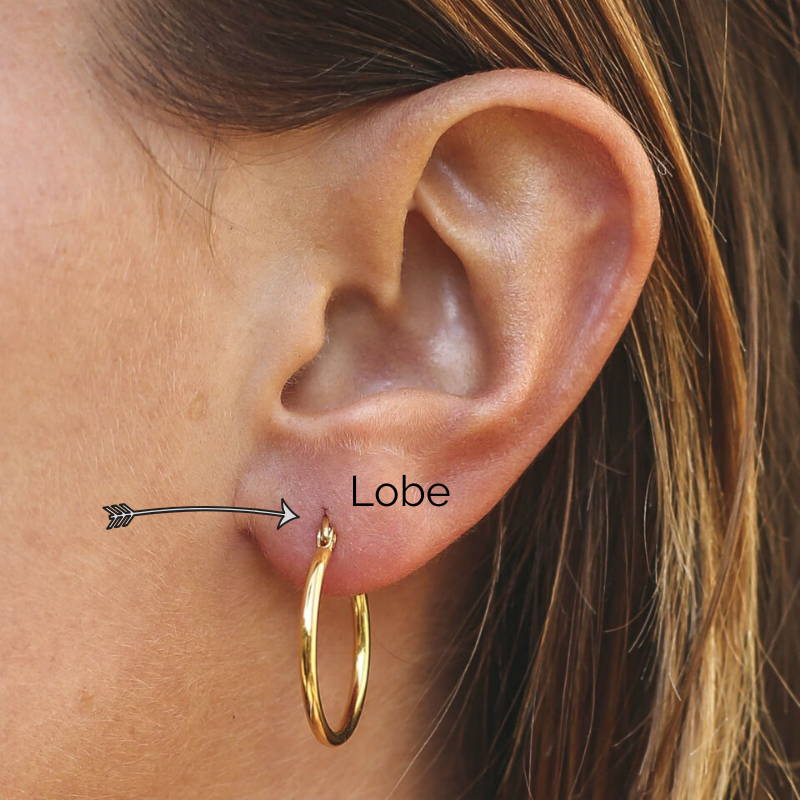 So now you're informed on the basics, let's find out the answers to the rest of your questions, like...
👉Give Me the Facts
👉Seriously, How Much Does It Hurt?
👉Tell Me Straight, How Long Before It's Healed?
👉Ok - Sounds Great, BUT Are There Any Risks?
👉How Much Will This Cost Me?
Now let's dive into these with some more detail
Congratulations to our Summer winners
Caitlyn & Hanna
It's that easy to win, now here's your chance to
HAVE YOUR SAY

Fancy A Pair of Fresh HOOPS?
Let us know your thoughts for your chance to win.
A set of our
ALL THE WAY AROUND & BACK 
60mm Hoops
In your choice of Gold or Rose Gold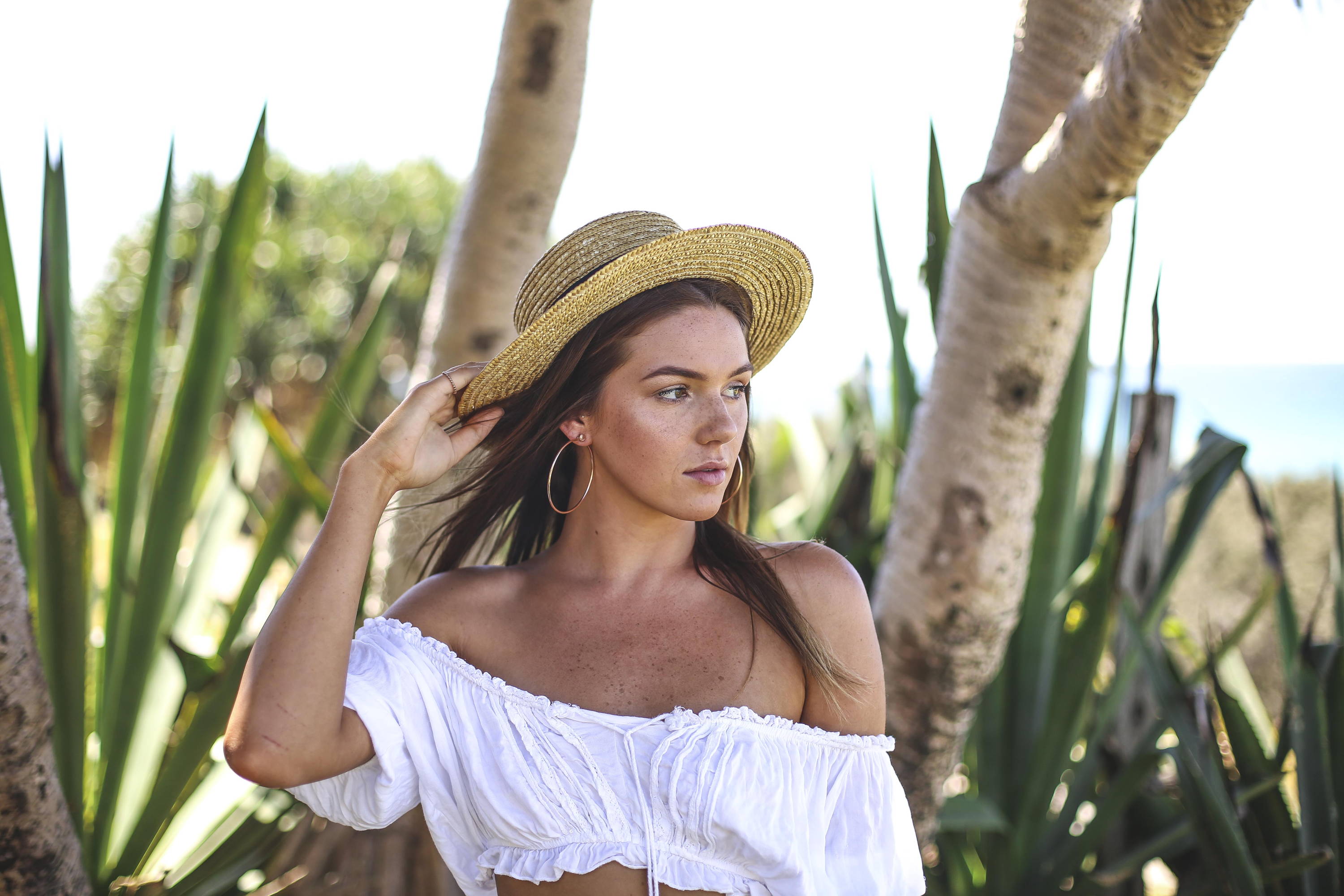 Here is this edition's question
What is your way of coping with ISO?
A - NETFLIX Bingeing
B - Quarantine Body Workouts
C - Online Shopping
Also let us know what piercings you have trouble finding jewellery for?
ENTRIES CLOSE July 31st 2020
Winners will be announced on Facebook and Instagram before the next edition
Follow us on social media for the latest info and inspo
Thanks!
This field is required
This field is required
This field is required